Kristi Yamaguchi, Brian Boitano Bring a 'Golden Moment' to SAP Center
 BY MATT CRAWFORD ON OCT 7, 2014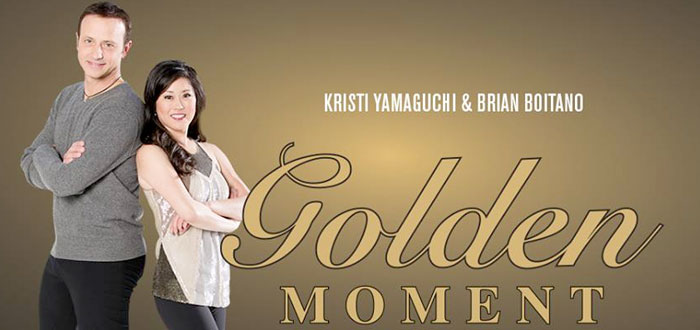 World famous figure skaters Kristi Yamaguchi and Brian Boitano—both Olympic gold metal winners from the Bay Area—are joining forces with more than a dozen other Olympic skaters to benefit childhood literacy with Golden Moment at the SAP Center.
Yamaguchi is best know for her gold metal efforts at the 1992 Olympics, but her work off the ice has had an impact far beyond the world of sports. For 18 years, her Always Dream foundation has supported various philanthropic efforts, most recently with an emphasis on childhood literacy.

Golden Moment at SAP Center on Nov. 2 will benefit that cause with an evening co-produced by Yamaguchi and Boitano featuring skaters including Dorthy Hamill, Meryl Davis & Charlie White, Nancy Kerrigan and Polina Edmunds, a San Jose high school student who competed at the Sochi Olympics.
We spoke with Yamaguchi to discuss Always Dream, childhood literacy and her decision to return to the ice at Golden Moment for her first public performance in six years.
Can you tell me a little about your foundation Always Dream?
It is 18 years old and the inspiration was to have a positive difference on the lives of children. In the last three years, we have really focused our attention on early childhood literacy.
I had support and a lot of help growing up to accomplish my dreams, but many kids out there don't always have that support or they need a little extra help. If we can inspire children and give them the resources or support they might need to take a step in the right direction, that's what we're all about.
Why is early childhood literacy so important?
It's important because reading is really the fundamental building block for a child's success in school, and in life. In California, close to 70 percent of fourth-graders are not reading at grade level. If children are not reading at grade level by third grade, the statistics are staggering for future high school dropouts and incarceration.
We have a lot of issues right here in our backyard, and I really wanted to do something in education. I really wanted to dive into that and make a difference.
From what you've seen in the Bay Area, it sounds like there is a lot of work to do.
Absolutely. We are still a relatively small organization, but we have partnered with a national organization called Raising A Reader. They have a wonderful book bag program that allows children to take home a new set of books each week so they are encouraged to read at home at get their families involved.
We partner with them by bringing in digital technology. Since we are working in underserved areas, these are kids who probably wouldn't normally be exposed to that. The e-readers have 15 to 25 e-books and some correspond with some of the hardcover books that they take home. They can see the difference and it's a new avenue for them to explore reading.
The name "Always Dream" is a powerful phrase. Can you tell me about the name of your foundation and what that means to you?
When I was a young skater, I noticed that people would have "Best Wishes" or "All the Best" when they would autograph their names. I wanted to come up with something a little bit more original and a little different, so I started signing my name "Always Dream, Kristi Yamaguchi." It sort of became my motto and the message I would give to kids. Eventually, when we established the foundation, that's the first name that we all thought was appropriate.
I just learned that you are also an author; you wrote Dream Big, Little Pig a few years ago. What inspired that project?
Having two young daughters of my own, we really established a strong bedtime reading routine. My daughters always picked up the same book, and I read it to them over and over again. It was a really special sharing time in our schedule and it just kind of inspired me.
They were 4 years old and 6 years old—really that target age group for a children's book. They were the motivation and they had their hands in it, as well, so it was a fun project.
For the Golden Moment event at SAP Center you will be on the ice with your daughter Emma. Why did you decide to return to the ice now after a six-year break?
I keep asking myself that, as well (laughs). The timing was right. Looking for new ways to raise awareness and bring people together, it seemed like a nice time after this past Olympics to try it again.
We have an incredible lineup of talent, and everybody said "you are co-producing the show with Brian Boitano, you should be skating in it, as well." So, I'm working out something simple with my daughter. It's been fun—a challenge, but fun to get back on the ice.
Who's more nervous about it, you or her?
For sure, it's me. She was a little scared because she saw how big SAP Center was, but now she's all gung ho. It's kind of that crunch time now where I'm starting to freak out.
What else can we look forward to at the event?
Because it's a celebration of literacy, we are doing a reading-incentive program where about 1,000 students will earn four free tickets if they hit their annual reading goal. Throughout the show we'll have literacy messages, so it will be all about the cause.
Outside of the event, how can people get involved with Always Dream?
Always check out what we are doing. We have an annual children's literacy festival in San Jose at Happy Hallow, which I think will return in June. You can always go toAlwaysDream.org to find out how to get involved.
Golden Moment arrives at SAP Center on Nov. 2. More info.